Ermioni Beach Hotel is a quiet family hotel  consisting of 37 spacious rooms,  a swimming pool, bar & lounge area and a restaurant. Most rooms have sea view, can accommodate up to three people  and are carefully designed to provide our guests with a comfortable and enjoyable stay. They are equipped with all comforts and have modern furniture and a large spacious bed.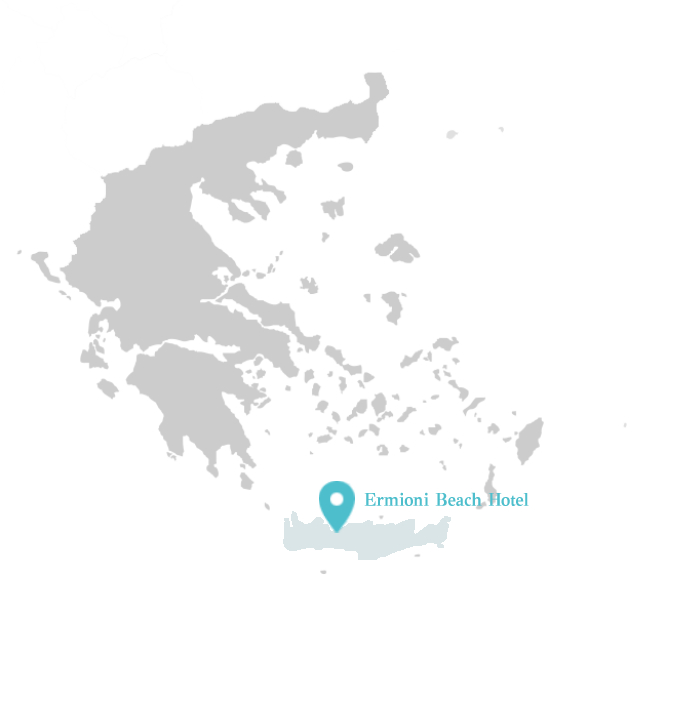 The location of the Ermioni Beach Hotel is ideal. It is located between Chania and Rethymnon (at a distance of 35km and 15km, respectively) right next to Georgioupolis. The visitor easily accesses both world-famous and historic ports. The place is surrounded by the beautiful White Mountains and just 6 km, away lies the peaceful water Lake Kournas.
The rooms come with climate control, a private safe and a multi-channel television. The rooms have bath amenities including a shower, hairdryers and bath sheets.
Hotel features a restaurant, an outdoor pool, and a bar/lounge area. Free buffet breakfast, free WiFi in public areas, and free self parking are also provided.
The hotel is build next to the sea front with hardly any traffic & other buildings around with the sandy beach of Georgioupolis offering endless hours of enjoyment.
you will be treated like a king
Ermioni Beach Hotel has a spacious outdoor pool with sunbeds under palmtrees and umbrellas. Snacks and drinks are served throughout the afternoon/evening at the pool bar. There is also a big screen TV where you can relax watching your favorite footbal game!

Swimming Pool (Fresh Water)
Pool Sunbeds & Umbrellas
Pool Bar
Service Hours: 11.00 – 01.00
our clients love these rooms
Discover Ermioni Beach Hotel